Get more batteries out of your batteries! Here are 3 tips on how to increase / prolong your Doorbell camera's battery life:
Tip 1: Place your Chime near your Doorbell camera.
In close proximity, the Chime will improve the Doorbell's wi-fi signal, leading to longer battery life and quicker alerts.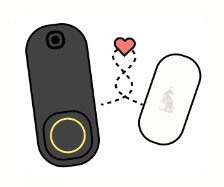 Tip 2: Keep busy streets out of the Doorbell camera's view.
Prevent unnecessary alerts from draining your battery and interrupting your day by keeping high traffic areas out of view when possible.
Tip 3: Keep Doorbell Camera's motion sensitivity on "Average"
Extra sensitivity is primarily for rural areas or obstructed views. Outside of those situations, we suggest the default setting on "Average"

Average sensitivity can detect motions within 8ft, meaning less frequent alerts = longer battery life.
Extra sensitivity can detect motions within 16ft, meaning more frequent alerts = shorter battery life.