Resetting your Video Doorbell camera is needed if you have changed your WiFi credentials, if the device cannot be found during pairing process and if one of our GuRoos advised.




Step 1. From the mounting plate, push the video doorbell camera upwards.
Remove the video doorbell camera from its mounting plate by pushing it upwards. This way, you can locate the reset button of the device.
Step 2. Locate the reset button at the bottom part of the device.
The reset button can be located at the bottom part of the device where there is a rubber cover. Pull open the rubber cover and beside the micro USB port is the reset button as seen below: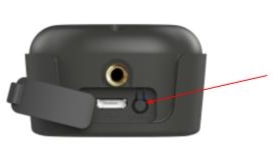 Step 3. Press and hold on the reset button for 5-10 seconds long.
Press and hold on to it for 5-10 seconds long until you hear the video doorbell camera say, "System will reset". While pressing and holding on the reset button, the light indicator on the video doorbell camera should also turn red. Following that voice prompt should be, "Your device is ready to pair".


Should you have followed all the steps provided and your Video Doorbell camera still did not reset, kindly contact us.